Project Settings¶
The Settings page within a project includes various options for specifying settings related to the project, including:
Project Name and Description

Public or Private Project

Allow Box Cloning (subscription required)

Always-On Box (see Always on Boxes)

Allow Private Static Preview. See Preview for more information. This setting is only available from Project > Settings.

Protect Dynamic Ports. Enable to restrict preview to the owner of the box; disable to allow preview of the box to anyone who knows the box url. This setting is only available from Project > Settings.

Stack Settings - specify current stack and version used in your project.

Forwarding Settings - enable SSH forwarding. See Access Codio Box via SSH for more information.

Gigaboxes Settings - set this to a larger size if you have a memory intensive project. You must first request a larger box for your organization. Contact help@codio.com to initiate this discussion. If you add your project to a course as an assignment, as you publish your assignment, the Propagate gigabox settings to the assignment settings option on the publish assignment dialog will show. By default it is enabled but you can disable it if you choose.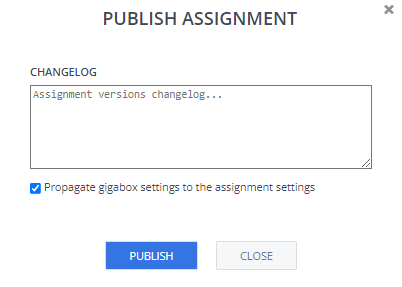 You can also perform the following tasks from the project settings:
Delete your project.

Export the project as a Zip file.
You can access the project settings using one of the following methods:
Click the Project tab on the menu bar and choose Settings.

In the Dashboard, click the Open Settings icon (gear) from the My Projects list.